Photo gallery: Hostel Azul
For your perusal... your questions are welcomed... your pics too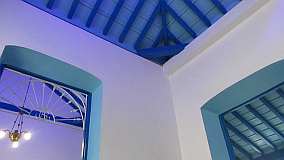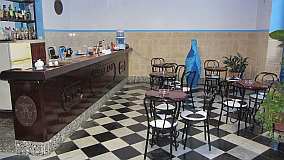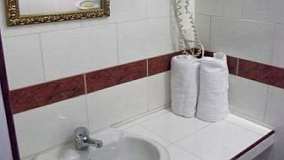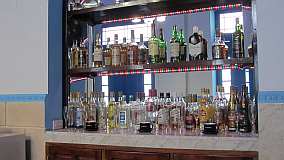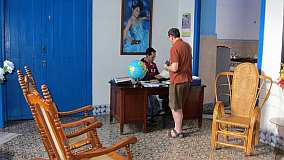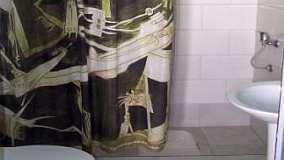 Our hostel after renovation works in 2016: painting, bar, reception desk, bathrooms
Four rooms (B&B) in Matanzas
Price: $30
$30 per room and night. Two persons pay the same as one. No extra charge for children. Please note: We charge an extra fee for mini-stays unter 7 days.

If booking more then 15 days please ask for 14+ price (not available in December/January).
We quote our offers in Cuban

Peso Convertible CUC. While in Cuba, you should make the payment to your hosts in CUC as well. These are the recent exchange rates of our currency:
5.Jun 12:22: 1.00 CUC = 0.94 €
For Singles, Couples or Friends (41)
Couples with a child are welcomed.
Breakfast optional 5,00 CUC (63)
Some travel tips (53)
Intecity bus line VIAZUL is the most popular means of transportation among travelers to Cuba. There are currently (2016) four daily departures to the Varadero airport ($6) and five to the city of Havana ($7).

Surprise: yes, you can go to Havana by train! You may call it a "safe advature ride", certainly not a luxury. It is fun, with plenty of photo opportunities along the way. Please ask your host for details.

If you come to Cuba for the first time, please note: bed linen and towels are always included in the private casas.
Can I get a discount? (209)
If you book more then 2 weeks - please ask.
HolaCuba Reservation
For reservation click on the booking link. HolaCuba ™ is a well known travel portal for Casas Particulares in Cuba serving the tourists from 2001.
Reserve now
Direct Reservation on HolaCuba Portal
Bitcoins gladly accepted
Please let us know in the reservation form.
...Paypal too
Your host

Yoel
has been running the hostel for many years and is always happy to share his experience with the guests.
Our house on the calle Milanes, excellent location near Parque Libertad